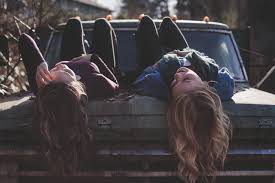 Slay your TWENTIES: Why your 20s matter?
Research says the way you spend your 20s deeply affect your later years. Slay your twenties !!
The 20s, the most thrilling, stirring, and full of exhilarating phases of life. The point where we create stories or be part of someone's stories. With no aim that these recklessly played stories will be lessons for an upcoming generation. Or else a strong thread of memory whom we will re-live on the spilled light of the moon.🌓🌓 
To be honest, I think I wasted my very early phase of the 20s on settling trash and bullshits. But if I contemplate, then the conclusion will be like " just because of that settling phase, I'm here now living so motivated." It shows there is nothing waste in life, not even a day, just you need to learn and grab the opportunities. 🤗
The 20s are your most selfish years where you find your new emerging passion, travel, explore, love-love a lot, love a little. And actually, your feet never touch the ground somewhere flying on the cold breeze of your innocent dream, though you are there. Talking apart,
We often get comments on our childish acts from elder ones mentioning"you will regret one day if you continuously stay like this." But that's not the truth as mistakes, confusion and uncertainty are all part of making your twenties really cool. And no wonder that's the phase where you are getting down with the vigorous hope of learning, loving, moving, and living. It's a long decade to immerse yourself in every single way possible. 😇
From getting surrounded by a majority of friends in life to none of them,  getting loved to detaching from every sort of attachment, hands full of bucks to asking for a penny. Or else with dept, we grew up losing nothing in the eyes of upcoming later years.
It's not the story of everyone !! UnrevealedThoughts
Some of us are so focused on ideas, plans, and start-ups that they work long-long nights with the same age group, and one sudden night they just come up with brilliant success and hidden achievement over there. Where some of us are just struggling with our parents either to maintain the relationship-understanding. Or else asking for a brand new definition of FREEDOM.
I have seen people in their early twenties making the decision of leaving their homes with few of their belongings. In order to live with their loved ones and to work.
Well, all these are the few sorts of lifestyle that we choose in our early twenties but despite all these, I would suggest you apply sunscreen, blended with self-care, confidence, good company, and a long term decision, wherever you step ahead.👍 And slay your twenties.
Frankly speaking, it's true the way you spend your twenties affects your upcoming years. As the value of any exertion comes from the effort you put, not in dreaming of getting fly over the dreams.🥏
And it's obvious you can't ask the cost of exploring at a certain age. So, it's better to save some money. Even if it's just a tiny amount, start saving now which will give you a light view over managing money. And how hard it is to earn and live on your own. Relationship: The millionaire one.
Slaying doesn't mean ruining. It's like live your twenties full of life which definitely includes learning, loving, and living. It means gratifying yourself with the thirstiness you were feeling.😊
Career paths may change and shift a lot over the years. Therefore, just focus on making the next right move. And no need to worry where you will end up. Just explore and grab the action. It doesn't need to be perfect. Let your smaller and imperfection get raised.
 They say "everything happens for a reason" and I truly believe in that. It's really difficult to venture your twenties through, as the journey hits the unsudden path. But you need to drive directly straight to end with the emerging question "when it will be easier?"
Every experience that you gain, good or bad, will eventually get you exactly the same place where you are supposed to be. You can't expect success overnight. That's just possible on your late-night dreams when you have nothing to lose.
But the once you find yourself after losing yourself on the crowd of this portrayed world, definitely you are on the right way just drive the string.🌏 Flawless beauty: Be Yourself.
We face a lot of ups and downs-care, love, attachment, fun. And a long process of settling the trash we made, we often find it normal, and rather than learning we just get more involved. And make unstable and sorry that's not the slaying your twenties mean.
If you really wanna live your twenties then save your little money, travel and explore, learn from mistakes. Invest in yourself, find your frenemies, and stop pledging, and so on.😉😊
Let your dreams move from head to heart and start living your heart !!💓 How to relieve stress?
Keep Loving, Living, and Sharing!! 
Please follow and like us: